Principal Selection Process Update: View Final Candidate Bios and Videos (English & Spanish)
Posted March 26, 2021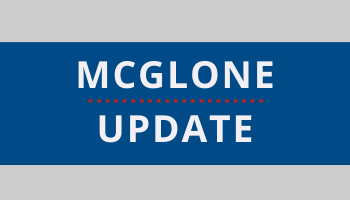 March 26, 2021
Dear McGlone Academy Community,
Thank you for your continued partnership in the principal selection process so far. We are pleased to share that we have two strong candidates for McGone Academy that will participate in the final steps of the process.
Community engagement is still a vital part of principal selection in DPS so we have adopted a virtual community presentation process to allow the community to hear from our top candidates. This process will consist of the following:
Finalist candidates will submit a pre-recorded presentation sharing a short summary of their vision for McGlone Academy, and respond to questions generated through the previous community input survey.
Candidate presentations and question responses will be posted along with candidate biographies on the McGlone Academy website. Both the recorded presentation and bio will be posted to the school's website for 14 days along with a survey where we invite community members to submit your feedback on candidates' strengths and considerations to help inform the final hiring decision made by the superintendent.
We highly value the voices of all our stakeholders. To honor this, we would like to invite staff, students, parents and community members to view the candidate presentations and bios on the McGlone Academy website.
Please share your feedback on the strengths and considerations of the candidates based on their presentations and the needs of McGlone Academy.
Please complete all feedback by Friday, April 9 at 4 p.m.
*UPDATE* The community input window is now closed! Feedback is now being compiled to share with the superintendent to help inform the final selection of a new leader for McGlone Academy.
Candidates will participate in an interview with Interim Superintendent Dwight Jones and Deputy Superintendent of Schools Michael Ramirez as the final step in the selection process.
We thank you again for your flexibility as we adapt to the needs of the current remote circumstances and still look for ways to ensure voices of the community are represented.
Sincerely,
Dr. Antoinette Hudson
Regional Instructional Superintendent
---
26 de marzo de 2021
Estimado comunidad de la Academia McGlone,
Gracias por su alianza en lo que va del proceso para la selección del director. Nos complace comunicarles que tenemos dos candidatos excelentes para Acadamia McGlone que participarán en los últimos pasos del proceso.
La participación comunitaria sigue siendo una parte vital del proceso de selección del director en DPS por lo cual hemos adoptado un proceso de presentación virtual para permitir que la comunidad escuche a nuestros candidatos finalistas. Este proceso se llevará a cabo de la siguiente manera:
Los candidatos finalistas entregaran una presentación en video en la que compartirán un breve resumen de su visión para Acadamia McGlone y responderán a las preguntas generadas a través de la encuesta previa con los comentarios de la comunidad.
Las presentaciones y las preguntas a los candidatos se publicarán, junto con sus biografías, en el sitio web de la Academia McGlone. Tanto las presentaciones grabadas como las biografías se publicarán en el sitio web de la escuela durante 14 días, junto con una encuesta en la que se invita a que los integrantes de la comunidad presenten sus comentarios sobre las fortalezas y consideraciones de los candidatos a fin de ayudar a informar la decisión final de contratación que tomará el superintendente.
Valoramos enormemente las opiniones de todas las partes interesadas. En el sentido, deseamos invitar al personal escolar, los estudiantes, los padres y a los miembros de la comunidad a ver las present aciones y biografías de las candidatas en sitio web de la Academia McGlone.
Les pedimos que compartan todos sus comentarios, a más tardar, Viernes 9 de abril a las 4pm.
Actualización: ¡La ventana de comentarios de la comunidad ahora está cerrada y se están compilando los comentarios!
Cuando finalice el período para recabar comentarios de la comunidad, se compilarán los comentarios y se compartirán con el superintendente para ayudar a informar la selección definitiva del próximo líder de la Academia McGlone. Los candidatos participarán en una entrevista con el superintendente interino, el Dr. Dwight Jones, y el superintendente adjunto de escuelas, Michael Ramirez, como último paso en el proceso de selección.
Les damos las gracias de nuevo por su flexibilidad a medida que nos adaptamos a las necesidades de las actuales circunstancias de comunicación a distancia y seguimos buscando las maneras de garantizar que las voces de la comunidad estén representadas.
Atentamente.
Dra. Antoinette Hudson
Superintendente regional de instrucción